The well known marketing guru, and Founder of Tron, Justin Sun has caught some backlash recently.
Justin Sun held a $20 million cash airdrop and Tesla giveaway to "raise awareness for blockchain" and attempted to cover his tracks by deleting several twitter comments.
The crypto community became outraged.
What Happened?
Basically, Justin Sun held a sweepstakes for a $20 million cash airdrop and 1 winner would receive a Tesla. The announced date for the Tesla giveaway was set at March 27, 2019.
In a live video, which Justin Sun posted on twitter, one can see the announced winner was twitter user uzgaroth.
Now, where the controversy began was when Justin Sun starting deleting tweets acknowledging uzgaroth's winning of the Tesla. In fact, he even announced a new winner for the Tesla giveaway RIGHT after announcing the winner on a live video.
Following the tweetdraw results, Justin Sun tweeted out an acknowledgement statement.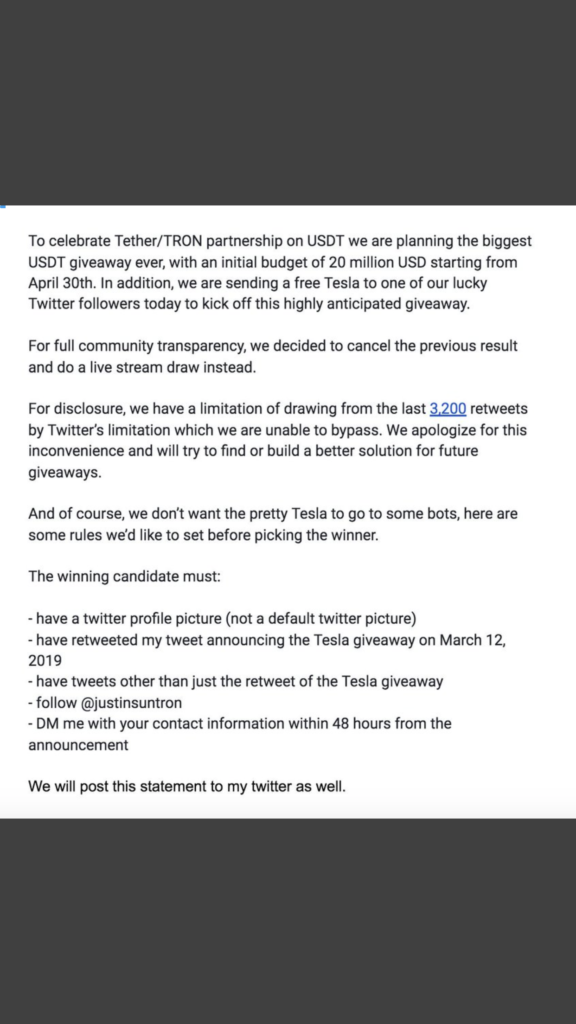 Crypto Community Outrage
Following this new "tweetdraw", Justin Sun was met with severe criticism from the crypto community for deleting tweets acknowledging the original winner, uzgaroth.
Specifically, Crypto_Bitlord had some things to say about the situation as well as several posts made on Reddit.
Eventually, after learning about the news and all the crypto community backing uzgaroth, uzgaroth decided to make a few tweets and a video asking Justin Sun: "Where is my #Tesla"?
Justin Sun's Response
After being torn apart on twitter and social media channels alike, it's pretty safe to say Justin Sun went into complete damage control mode.
Earlier, Justin had deleted tweets acknowledging how uzgaroth won the Tesla giveaway, clearly trying to cover his tracks. However, the backlash was so strong, Justin Sun decided to give uzgaroth the Tesla as well as the second announced winner from a "tweetdraw", LeoHyunhPro.
"I sincerely apologize for the confusion and inconvenience regarding the sweepstakes. I'd like to take the opportunity to clarify the situation. The team has come to the conclusion that non-livestream methods to determine the winner may cause ambiguity and controversy".

Justin Sun https://twitter.com/justinsuntron/status/1111502427184754693?s=21
"We had a similar giveaway on the Chinese platform Weibo, which had their own built-in sweepstakes winner generator. Twitter does not, and the solution we decided on was to host a livestream that provides the maximum transparency for our community".

Justin Sun https://twitter.com/justinsuntron/status/1111502695142023170?s=21
"However, I do recognize that this is an unfortunate situation, and would like to extend my warmest welcome to the next #niTROn summit in 2020, including a fully paid round-trip ticket to the event location. We are very grateful for your continued support. #TRON".

Justin Sun https://twitter.com/justinsuntron/status/1111502893771706370?s=21
At this point, uzgaroth was not having it. In his response, he asks Justin to explain where his Tesla is and why his six year old son will not be able to see it.
"Can you explain to my 6-year-old son, you will not give him a Tesla because you were wrong, I had already told him that it would be his anniversary gift, he will meet the next 25th of May".

uzgaroth https://twitter.com/uzgaroth/status/1111508074265804801?s=21
Eventually, with the help of the entire Crypto community, Justin Sun announced that uzgaroth will be getting his Tesla as announced in the live video drawing.
"Hi @uzgaroth just wanted to let you know you will be receiving a Tesla! This contest is all about celebrating the expansion of TRON and newly launched stablecoin USDT-TRON, but moreover, bringing awareness to the whole blockchain industry. I hope your son will enjoy the new car!"

Justin Sun https://twitter.com/justinsuntron/status/1111697367093264385?s=21
Conclusion
Justin Sun's actions and the way this entire situation went down, makes me believe it was a strategic marketing ploy to get more attention to Tron. After all, it's not terribly far fetched considering, Justin Sun has been accused of buying half of his 50,000 new twitter followers.
Only in crypto..