Well this is new.
Investors in Sparkster have came together and formed a group seeking to collect others who have invested in Sparkster to begin a class action lawsuit.
Already, over 1000 people have expressed interest and have joined a designated telegram group for the class action lawsuit. A link to the telegram group can be found here.
There is a Sparkster Legal Action Form posted in the group where investors in Sparkster can voluntarily fill in the form and from there, lawyers will begin motions. Also, there is a Sparkster Regulator Complaint Form that can be filled out as well.
Given the magnitude of this group and the amount of people that have been collected, this is not a joking matter and should be of extreme concern to Sparkster.
What's going on with Sparkster?
Sparkster investors are actively pursuing a class action lawsuit against Sparkster under the premise their tokens have been "held hostage" for an extended amount of time.
In the past, Sparkster's CEO Saj gave tens of thousands of telegram users a "300x" price projection, claiming "Our platform is truly life changing". Similarly, Substratum's CEO has given a "100x" price projection of his own token in the past. In both instances, there were several accounts of investors being swayed to buy tokens from these positive and outlandish projections as they deemed them to be possible.
Among the people involved in the class action lawsuit includes several ICO investors and Ian Balina, who is an admin of the chat and assisting others wishing to get involved in the class action lawsuit.
Ian has been heavily criticized for his ranking of Sparkster as a "Hall of Fame" ICO, to which he recommended as a 5 star / 90% ranking ICO through his ICO spreadsheet on May 22, 2018. When a Sparkster investor questioned Ian on the matter, Ian responded by saying "Not financial advice".
A bitcointalk forum from June 13, 2018 details Ian Balina's "5 star" rating and several reviews of Sparkster from the likes of OhHeyMatty and CoinTelegram.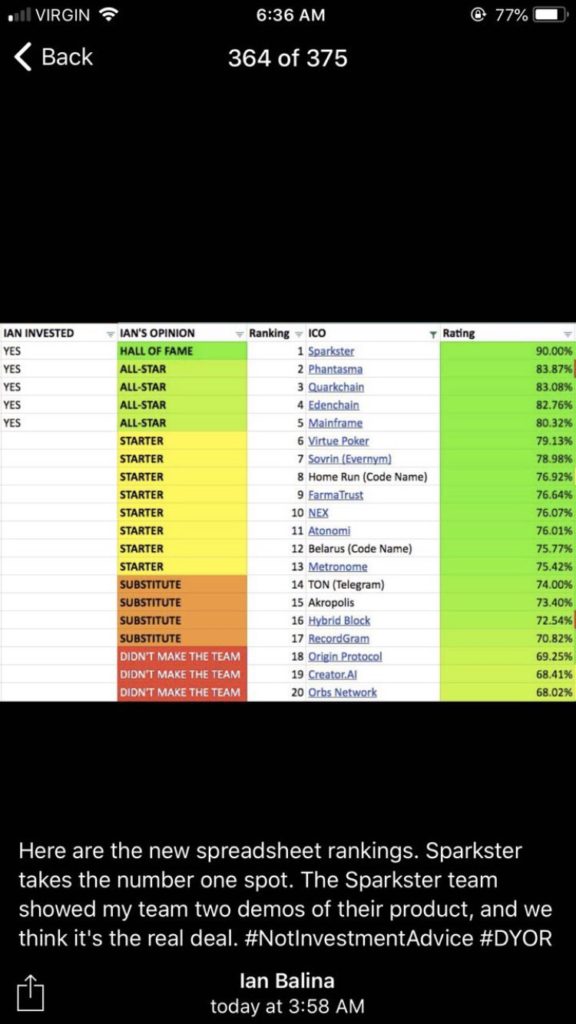 Ian Balina has made several other comments in the group and is actively assisting others interested in the class action. Ian had to say these statements to Sparkster investors:
"I have reached out to the team today telling them they can't hold investor's tokens hostage any longer. People are frustrated and will seek legal action".
"I personally believe the community should have the option of either getting their tokens bought back or receiving bonus tokens for opting for the long token lockup. Similar to what WaBi (now Tael) and Props project did".
What can I do if I Invested in Sparkster?
Investors in Sparkster interested in seeking legal action against Sparkster can voluntarily join the telegram group. Once you join the telegram group, you will be given a survey and 2 forms that can be filled out voluntarily. The forms will be linked below for convenience.