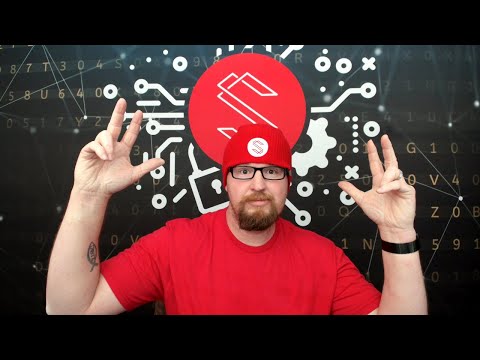 Substratum always seems to give me something to write about.
Recently, an interview surfaced with Justin Tabb and a contributor to Influencive. Justin tried to explain a number of things that have crutched the Substratum project over the past year. As expected, zero accountability was taken on his part.
After seeing the day-trader video, many people believed that Substratum was struggling financially -does this happen to be the case? – Suzie Ocie
"No, in fact, it's the opposite. We have been in business for over a year and a half, and even with the struggling crypto market, we have been fortunate to hit good points most of the time with conversion to fiat for use in building the company. While we utilized Bitcoin and Bitcoin Cash upfront to get the business up and running, all those upfront costs were associated with building the business, and we still have roughly half the Ethereum that we raised during the ICO and nearly all of the Ripple and LiteCoin we raised are still stored in Cold Storage". – Justin Tabb
You mean this video that was removed off Substratum's YouTube channel?
If you actually are in a good financial position, without any source of revenue stream mind you, why did you say this?
"So, we will be able to pick up a percentage of Ethereum and we rebuy in and once the market turns bull, which I believe it will in a couple months then our position will be that much better and we will be able to further the time that we have and uh and continue building the products that we set out to build. Uh and until we get cash flow positive, which we expect to do next year".
This is what we call gambling. Justin Tabb is gambling that his company "will be cash positive next year" and stating he also expects a bull market in "a couple months". It's been a couple of months since this video came out and the market is anything but bull.
"We still have roughly half the Ethereum that we raised during the ICO and nearly all of the Ripple and LiteCoin we raised are still stored in Cold Storage"
In what world is "roughly half" of your Ethereum raised during ICO equivalent to 29%? Substratum raised 17,778.25 ETH and currently only has 5,150.991684 Ether left. Last time I checked, 29% does not equal 50%.
Furthermore, Justin Tabb is clearly lying about the XRP and LTC being in cold storage. According to Substratum's whitepaper, the BTC, ETH, XRP, BCH, and LTC collected during its ICO was hedged four ways into BTC, ETH, USD, and USDT (25% each). Justin Tabb saying "nearly all of the Ripple and LiteCoin we raised are still stored in Cold Storage", is impossible if Substratum hedged all the funds collected in its ICO as indicated in the whitepaper.
Which leads me to this. On February 27, 2019 at 16:40:40 UTC the bulk of XRP (196,978.00 XRP) was liquidated to Kraken. Also, on February 27, 2019 at 16:39:04 UTC the bulk of LTC (863.993 LTC) was liquidated to Kraken.
What caused the Substratum node not to be released in 2018? – Suzie Ocie
"We don't ever want to put out a substandard product just to hit some arbitrary deadline" – Justin Tabb
The only person who has been setting "arbitrary deadlines" is Justin himself. Substratum Node V1 has been delayed not once, but twice now. I honestly think, if Substratum actually set a realistic deadline and / or delivered V1 by EOY 2017, the project would be in a much better state. Considering this, Justin even had the audacity to delay it again after telling his community to "quote me on it" for EOY December 2018. It's been 3 months since it was delayed for a second time and there is currently an 8 week estimate for V1 completion date.
Whatever happened to crypto pay? – Suzie Ocie
"CryptoPay is still very much in the pipeline" – Justin Tabb
Quote me on it.
What is your outlook for the blockchain and cryptocurrency industries for 2019? – Suzie Ocie
"Additionally, as projects are given the time to mature, you will see a more full and rich usability application in general, so all in all very good things" – Justin Tabb
I'm going to place a short quote given from Justin late December 2018.
"Basically what's happening now is um the simulations continued to indicate that Ethereum is going to continue this downward trend obviously. Uh and test all the way down to $60. So we are going to not cash in, but uh begin basically attempting to trade up so we can further our position as long as possible".
I would ask anyone's opinion other than Justin Tabb's for the outlook on this space moving forward as his $60 ETH projection is laughable. At current prices, ETH is trading at $131.98 right now.