A little while back, I wrote a post and mentioned ICON within it. I went over general features but, never really dug too deep in that post.
At the time of writing that post, ICX was trading significantly higher than it's current price now, at roughly 34 cents per ICX. Has the price drop affected my view on ICON?
Of course not. Let's take some time to talk about ICON and what's been going on.
What's Been Going on with ICON?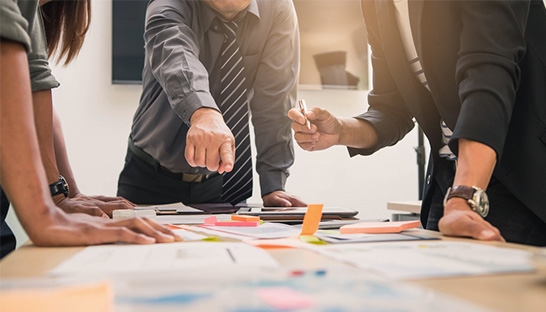 In short, a lot.
A major milestone was announced on September 13, 2018, when ICON released it's highly anticipated Yellow Paper, "ICONstitution and Governance". With this release, ICONists across the globe learned about the existence of P-Rep's along with the already known C-Reps.
P-Rep stand for public representative. The ICONsitution and Governance paper states that P-Rep's are expected to do the following.
"Propose and vote on policies that maximize overall ICONists interest of the ICON network".
On January 17, 2019, ICONSENSUS was announced and further details were released about P-Reps. The election of P-Reps represents one of four key items and the first milestone to ICONSENSUS.
Other key items of ICONSENSUS include:
Election of P-Reps
Election of C-Reps
Ongoing dAPP Booster Programs (DBP's)
Ongoing Ecosystem Expansion Projects (EEP's)
On February 7, 2019, ICON released news of the Seoul Metropolitan Government "issued mobile letters of appointment to its Blockchain Governance Team using ICON's public blockchain".
ICON also stated in the announcement, the following.
"Government and supporting agencies are expected to take the first step in leveraging both public and private blockchain systems".
It just so happens that the Seoul Metropolitan Government is headed by Mayor Park Won-soon, who is a strong candidate for obtaining presidency in South Korea. Brian Li, a cryptocurrency investor, and contributor to Liquid, CryptoSlate, and Decrypto went into greater depths about the announcement here.
More recently, on March 7, 2019, ICON announced its new token standard, IRC 16, which aims to simplify the process of creating blockchain-based securities and tokenized assets.
"IRC16, a newly added token standard based on ICON's public blockchain network, is designed to allow transparent issuance of tokenized assets and securities. Also, it supports simple tokenization of various physical assets through a modular architecture for built-in compliance with legal regulations related to asset ownership and transactions. Tokenization of real assets, which divides, proves ownership, and allows for the sale of physical assets into smaller 'token' units, is expected to increase the liquidity of high-value assets and expand the size of existing investor pools over the long term".
Additional updates include new use cases with Loopchain (the core blockchain technology behind the ICON network), Ecosystem developments, several new Partnerships/MoU's, Development, and numerous blockchain events.
P-Rep Election
ICON's P-Rep registration began recently on January 17, 2019, when it was announced. Details on ICON's P-Rep registration process can be found in the community portal. P-Rep registration marks an important milestone for the ICONSENSUS roadmap and one of the four key items that are apart of the journey towards mass adoption of blockchain.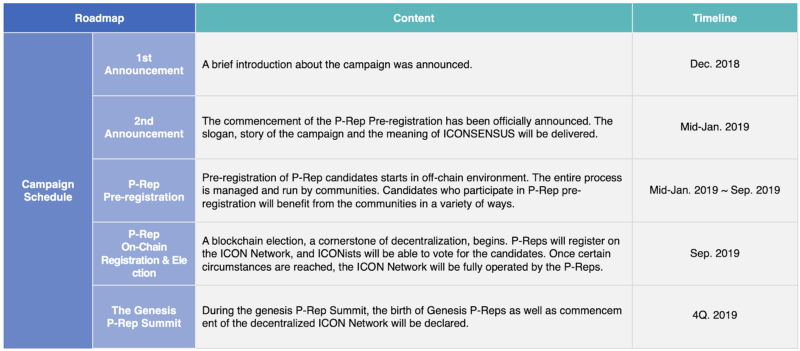 P-Rep's will be community-elected ICON node operators that produce blocks, verify transactions, and vote on governance proposals. With this in mind, P-Rep's are public representatives of the ICON community, who are appointed by the community, not ICON.
P-Rep's are incentivized through many ways and encouraged to act with the best interest of the ICON network in mind.
P-Rep Benefits include:
Economic incentives
Right to vote on the governance policies
High reputation within the ICON Community
Eligibility to join the ICONgress
As of the time of this writing there are several candidates that have applied to become a P-Rep.
What are the Qualifications to Become a P-Rep?
Detailed information regarding P-Rep registration can be found in the community portal, however, there are some important things to keep in mind prior to applying.
There is a slight high barrier of entry for prospective community members wishing to apply as a P-Rep, and the main concern amongst many is server costs. This has made some people feel as if "normal" community members would have relative inaccessibility to become a P-Rep.
Depending on one's infrastructure provider, the suggested server specifications could easily result in a monthly bill over $1,500. Setting up and securing a high-end server will also require advanced technical knowledge and significant financial capital.
With this in mind, it's imperative to understand that ICON's governance functions like a representative democracy. A P-Rep's power is derived from delegation scores from other ICONists. Furthermore, no enterprise will agree to transact on a network running on consumer-level hardware and networking with no guaranteed SLA. Since ICON is targeting large enterprise usage of its platform, P-Rep's are expected to act with the best interests of the ICON network in mind.
ICON Global DApp Accelerator Program, DEX, and DID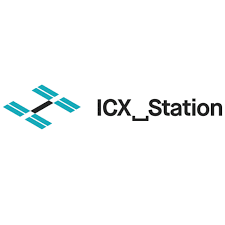 ICON is the only blockchain project in South Korea to run a global accelerator program. Through launching ICX Station, there will be hubs, or "Launchpads", in major cities across the world. Launchpad locations have already been created in major cities like San Francisco, Singapore, Seoul, and more recently, Tokyo.
All launchpads have the same mission, to accelerate projects pushing the boundaries of real-world adoption of blockchain technology using the ICON Protocol. Essentially, ICX station is directly helping bring together a global network of investors and entrepreneurs.
Similar to Tezos community grants, ICX Station enables entrepreneurs in the ICON community to have the chance to receive a direct investment from the ICON Foundation of up to $100,000 USD equivalent of ICX with several services and guidance.
Some of these services include:
Smart contract auditing, law firms, marketing firms, etc.
Fundraising support
Technical support from ICON experts
White paper review
Several additional services
ICON has also established "ICON LAP100", which is an enterprise blockchain alliance program based on the ICON public blockchain.
The main goal of ICON LAP100 is to:
"Jointly develop enterprise-specialized blockchain solutions with 100 companies and startups in various fields including biometric identification, certification issuance, payment, etc".
ICON Decentralized Exchange (DEX)
ICON's Decentralized Exchange (DEX), is expected in the first half of 2019. ICON's DEX will support p2p exchange between ICX and IRC2 (ICON's main net-based tokens).
Apart from adding liquidity and usability of IRC2 tokens within the ICON Network, ICON's DEX aims to connect diverse blockchains in the future and bridge blockchain communities together.
On December 21, 2018, AC3 network announced it was joining the ICON network. Subsequently, on February 19, 2019, AC3 became the first IRC token listed on coinmarketcap. ICX and BTC are the denominations for price, market cap, and 24-hour volume for the AC3 token.
ICON Decentralized Identification (DID)
ICON plans to release its Decentralized Identification (DID) mobile application in the first half of 2019 as well. ICON's DID will be based on ICON's public blockchain.
With the increasing need for data sovereignty,
individuals will be able to store and manage their personal information themselves, rather than having to make use of current centralized identification systems.
There are several benefits to this application such as:
Falsification protection
Duplication protection
Security of information
Furthermore, ICON's DID will also support user identification for DApps. In turn, this makes it unnecessary to establish a separate ID system within each individual DApp, making the process more seamless and concentrated.
ICON's Current Financial State
ICON is the dominant platform in South Korea with deep ties to the government and has formed partnerships with over 100 businesses including Samsung, LINE, Woori Bank, Nonghyup Bank and many more.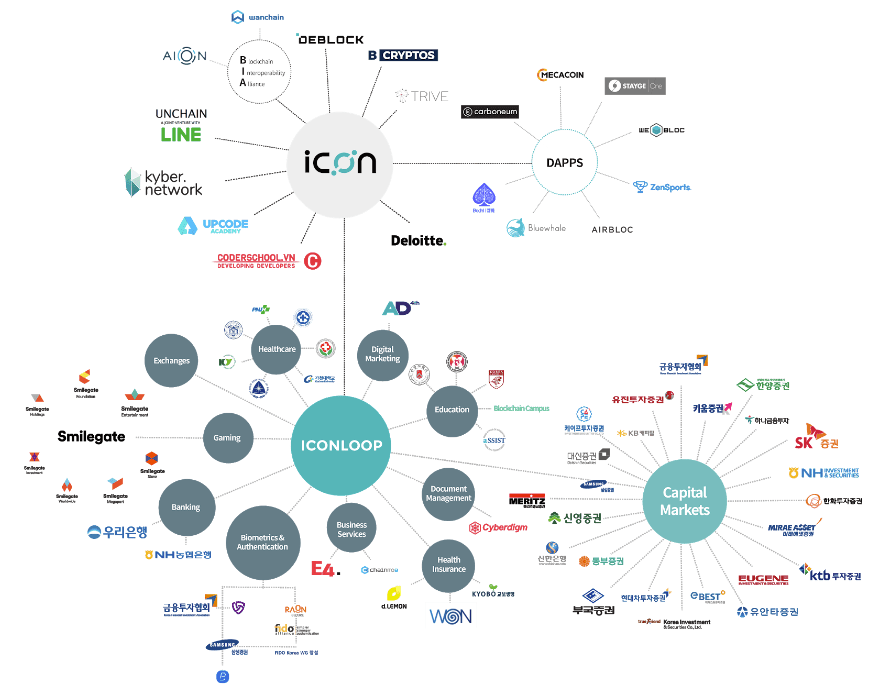 Even amidst this bear market, ICON's financial state is still strong. In total, ICON raised 150,000 ETH during ICO. During public pre-sale, ICON raised approximately 74,999.9874 ETH in a matter of 6 hours. All ETH raised from public pre-sale was spread across 30 different wallets in increments of 2,500 ETH each.
Examining the wallets, approximately 68,500 ETH of ICON's roughly 75,000 ETH raised during public pre-sale, has been moved (possibly sold). While many other projects have struggled with holding a majority of funds in ETH, ICON has allocated funds raised accordingly and have even announced a $5 million ICX buyback.
Considering ICON repurchasing $5 million worth of their own token, I believe this helps shows commitment to ICX's value from the team and suggests that they are good financial standing.
Furthermore, on January 27, 2019, ICON announced they have acquired a new office in Seoul that can hold up to 470 people. At this time of writing, ICON currently has 159 employees working for ICON.
A video tour of the office can be viewed below.
Apart from acquiring a new office and strategically allocating ICO funds, ICON has had an existing cash flow business operating for years before ICO. One of the largest fintech consortiums in Asia worth reportedly $4 billion, Dayli Financial Group, was responsible for creating theloop (now ICON LOOP), and Nexus, which powers ICON, the public side of it all.
Lastly, it's also important to note, ICON has recently announced it's new IRC16 token standard for security tokens. Potentially billions in assets could be poured into ICON through third-party market players interested in developing and commercializing blockchain-based assets and securities.
Conclusion
ICON is making strides to form the foundation of South Korea's blockchain economy. With ties to the government and over 100 businesses, ICON is currently working on its DEX and DID, which is expected in the first half of 2019.
Given ICON's current financial state with over 150 employees, a brand new office that can house up to 470 people, it does not seem that ICON will be slowing down anytime soon.
Disclaimer: I am invested and/or have an interest in one or more assets discussed in this post. I am not a financial advisor, nor should this post constitute as a means to purchase one or more of the assets discussed in this post. Please seek out a duly licensed professional.